Music Belongs in Your Home
Centered in Victoria, B.C., YourPlace Music School is built around bringing music lessons to you. Our university educated teachers are now offering in-person and online lessons for guitar, piano, ukulele, voice and more.
Our son has fallen in love with the piano, practices on his own and looks forward to his lessons. Such a great outcome!

Piano

Super convenient to have teachers come to your home. Would not hesitate to recommend.

Adult Piano Student

I have nothing but great things to say about these guys…

Piano

He has learned a lot and loves getting to play his favourite video game and Star Wars music on his ukulele!

7 year old Ukulele Student

I truly don't think I can capture how relieving it is to have their instructor, Drew, come directly to the comfort of our home after a long day for everyone. They take their lessons, I make dinner in peace Lol... win win! Thanks so much guys! :)

Piano

Jesse is a very knowledgeable and patient music teacher for my son. He makes the guitar lessons fun and my son always looks forward to their sessions.

Guitar

We love the flexibility of this group. Jesse and his instructors are very accommodating. Especially liked the mini report after each lesson as it helps to keep my son motivated with words of encouragement, which was most helpful when learning something new. Would highly recommend.

Piano

Very reliable. Really enjoy the extra time he takes to write a lesson summary and provide a plan for the upcoming week. Jesse the owner works hard to find a good match between student and instructor.

Piano
«
»
Your Time
Home Delivered Lessons
Less Driving Time
Less Waiting Time
More Time for Music
Learn about our Covid Protocols. Currently serving Guitar, Piano, Ukulele and other lessons to Downtown Victoria, Fairfield, James Bay, Oak Bay, Fernwood, Uptown, Gordon Head and more.
Your Money
Prices are split between peak times (lessons beginning 3-7pm Monday-Thursday) and off times (all other timeslots). See the pricing chart below for what suits you best.
YourPlace Music School January 2024 Pricing

Lesson Length

Peak Time

Off-time/online

30 minutes

$35.50

$31.50

45 minutes

$50.00

$45.00

60 minutes

$60.00

$55.00

90 minutes

$84.00

$80.00

*Prices in effect January 1, 2024. Online lessons aren't subject to the peak time prices*.
Your Music
Your lessons are centered around your curiosity and the music you are passionate about. The foundations of music are everywhere waiting to be explored. You choose the song and we help you understand the building blocks that make it up. We offer a range of services including Guitar, Piano, Voice and Ukulele Lessons which incorporate theory, performance, improvisation, and more to empower students creatively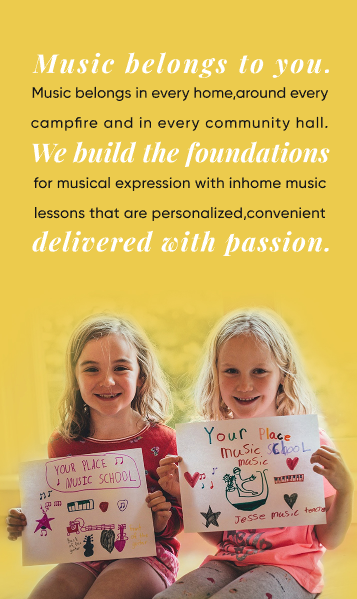 Latest Lessons
A short video showing you how to play the all time classic. Guitar lessons, Victoria, B.C.
The unmistakable holiday classic. Piano Lessons in Victoria B.C.
Great theme for beginners to practice for both hands. Piano Lessons, Victoria, B.C.
Choose Your Instrument